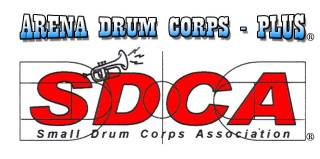 GENERAL INFORMATION: AN OVERVIEW
---
---

CONCEPT:

The associate corps will be "open class"; to include: junior, senior, alumni and all- age units
Performances will usually be on a basketball court but can be on a football field.
Shows will be for entertainment and will be judged by people's choice
SDCA will not effect a corps' involvement with DCI or DCA.
The SDCA season will try not to interfere with the DCI and DCA season schedule.
The Performance Guidelines are flexible to allow all sizes of drum corps to participate.

ASSOCIATE CORPS RESPONSIBILITIES:

Each associate corps shall provide a maximum of two representatives to SDCA meetings.
It is desired that all corps sponsor one show per year on a high school or college basketball court or football field.
Before a show, each host corps shall provide a brass and percussion clinic for local band members. The band members shall receive complementary tickets to the performance. If the host corps desires, it can invite band members to become members of their corps.
The representatives will review the performance guidelines and suggest modification to the rules and regulations at the annual SDCA meeting.
The representatives will be responsible to police the performance guidelines
To ensure commitment to SDCA, a refundable deposit of $100.00 per associate corps per year is required and will be refunded after full participation in the season.

SDCA RESPONSIBILITIES:

To have an annual meeting so the associate corps can review and suggest guidelines and to resolve associates' concerns or issues.
To call emergency meetings as required.
To coordinate the shows, times, dates and performing corps.
To overview and police the show's structure.
To promote new membership.
To collect and refund annual commitment deposits.
To collect and distribute money to the performing corps.
To locate future optional performance sites such as county or state fairs or college and professional basketball arenas.




Home