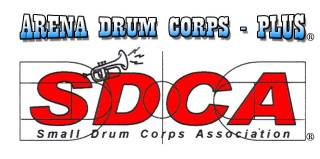 WHY SDCA?
---
---
As performers ourselves,we recognize that, for many smaller drum corps, it has become increasingly difficult to find a gratifying venue to perform. DCM is now a thing of the past; DCA is an all age , senior, alumni division with a heavy base in the Eastern states; and now,with fuel prices rising, costs to travel need to be considered. Although DCI provides some occasion to perform, it does not provide enough of an opportunity for a fulfilling season; and, in some cases, no opportunity is provided at all.
We have spoken with many drum corps people in the fishing stages of SDCA, and we did not find anyone who thought negatively about this venture. We even talked with the legend himself, Don Warren, who gave his personal endorsement and wants his Green Thunder to participate.
We also spoke with Roman Blenski from DCM and the Pioneer. He added his advice to the organizational plan. So, we moved forward and, since organizing SDCA in October of 2007, we have 36 (thirty-six) corps that have expressed interest. The numbers are growing.
In SDCA we realize that we need to be flexible. We are willing to bend in any direction in order for a drum corps, regardless of classification, to participate.
The SDCA design does not have the membership limitation that the Mini Corps Association has, nor are we interested in a corps with 150 on the field. We are a bridge between the two.
The smaller corps in the drum corps world need the SDCA in order to grow in membership numbers as well as to encourage the organization of new drum corps or to give reasons for the reorganization of corps that no longer exist.
The SDCA is encouraging these opportunities through a friendly "people's choice" competitive venue where all will share equally in the profits as well as work together,not as individual corps, but under one roof to aid each other in performance quality. The most entertaining and articulate corps, for example, may aid struggling groups by providing brass or percussion expertise.
If we could borrow a motto it would be: "All for one and one for all ".
We believe that there is room for corps to be in multiple organizations, and we feel that the added performance opportunities provided by SDCA will better prepare corps for DCI or DCA competition if that is their goal.
As we listen to the corps' desires, we realize that we need to keep all options open and already we see that an expansion of the program will occur as the corps get larger. Then, a summer season on the football field could be added; Recently SDCA has expanded the membership and opened the Southern California Region and the Eastern Midwest Region. Additionally the Canadian, the East Coast and the Texas Regions are in review.
It is our hope that SDCA will satisfy a need to perform our type of entertainment for ourselves and for a fan base longing to see drum corps more than just during a few select weeks out of the year.

Home